Essential Facts
Fall 2023
ICC serves all or parts of 10 Central Illinois counties: Peoria, Tazewell, Woodford, Bureau, Logan, Marshall, Livingston, McLean, Stark, and Mason.
Compared to Other Illinois Community College Districts
7th largest (2,322 square miles)
13th highest in assessed valuation ($7.4 billion)
21st highest in operating tax rate (per $100 of equalized assessed value)
12th highest Fall headcount (7,044 Fall 2022, credit only)
Accreditation
Illinois Central College is accredited by the Higher Learning Commission of the North Central Association of Colleges & Schools located at 230 S LaSalle St., Suite 7-500 Chicago, Illinois 60604 (312-263-0456).
Program & Class Information
Over 1,360 classes are offered in Fall. Average class size is 15.
Associate, Arts: 41 programs of study
Associate, Science: 17 programs of study
Associate, Applied Science: 43 programs of study
Occupational Certificate: 56 certificates
Enrollment
Fall Enrollment by Type of Degree/Certificate
| Type | Fall 2021 | Fall 2022 | Fall 2023 |
| --- | --- | --- | --- |
| Associate in Applied Science | 14.2% | 14.1% | 16.1% |
| Associate in Arts | 25.1% | 25.6% | 23.3% |
| Associate in Engineering Science | 1.6% | 1.0% | 0.8% |
| Associate in General Studies | 13.5% | 11.7% | 11.9% |
| Associate in Science | 10.5% | 9.7% | 8.5% |
| Certificate | 3.6% | 3.9% | 5.6% |
| Undeclared* | 28.9% | 31.3% | 30.1% |
| Non-degree/Personal Improvement | 2.6% | 2.7% | 3.7% |
*Includes Dual Credit, Non-Degree, Non-Diploma and Personal Improvement
Fall Enrollment Trends (as of Census Day)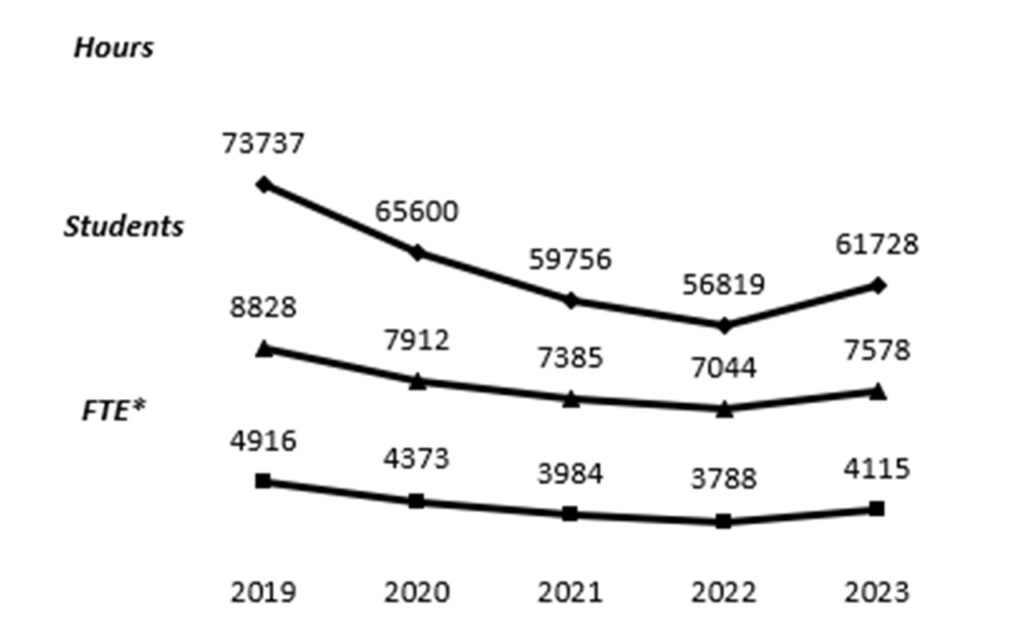 Fall Enrollment Trends (as of Census Day)
Type
2019
2020
2021
2022
2023
Hours
73,737
65,600
59,756
56,819
61,728
Students
8,828
7,912
7,385
7,044
7,578
FTE*
4,916
4,373
3,984
3,788
4,115
*Full-time equivalency
Fall Student Profile (as of Census Day)
| Race/Ethnicity | |
| --- | --- |
| White | 70.1% |
| Black/African American | 12.5% |
| Hispanic (any race) | 6.5% |
| Asian | 2.3% |
| American Indian/Alaskan Native | 0.1% |
| Native Hawaiian/Other Pacific Islander | 0.1% |
| Non-resident Aliens | 2.3% |
| Two or More | 5.9% |
| Unknown | 0.1% |
Enrollment Status
| | |
| --- | --- |
| Full-time | 29.5% |
| Part-time | 70.5% |
Gender
Residency
| | |
| --- | --- |
| In-District | 82.5% |
| Foreign Stds | 2.6% |
Age
| | |
| --- | --- |
| 16 and under | 8.9% |
| 17-18 | 33.1% |
| 19-24 | 34.3% |
| 25-34 | 13.6% |
| 35-44 | 6.3% |
| 45-64 | 3.3% |
| 65 and over | 0.5% |
| Average Age | 23 |
Fall Enrollment by Academic Organization
| Academic Department | Number of Credit Hours | Percentage of Credit Hours |
| --- | --- | --- |
| Agriculture & Industrial Technology | 5,372 | 8.7% |
| Arts & Behavioral Science | 11,855 | 19.2% |
| Business, Legal & Informational Systems | 7,684 | 12.4% |
| College & Career Readiness | 883 | 1.4% |
| Corporate & Community Education | 63 | 0.1% |
| Health Careers | 8,045 | 13.0% |
| Humanities | 13,463 | 21.8% |
| Math, Science & Engineering | 14,051 | 22.8% |
| Physical Education | 312 | 0.5% |
Annual Enrollment (unduplicated)
FY 2019 – 12,505
FY 2020 – 12,302
FY 2021 – 11,132
FY 2022 – 10,381
FY 2023 – 9,920
Fall Virtual Campus Enrollment
| Class Type | Sections Offered | Credit Hours |
| --- | --- | --- |
| Hybrid Classes | 117 | 3,878 |
| Online Anytime | 354 | 17,149 |
| Online Scheduled | 24 | 342 |
| Online Only | 1,230 | |
*number of students
Financial Aid
Types and Average Amounts of Aid Received* (FY 2022)
Federal loans: $4,447
Institutional grants: $2,313
State/local grants: $1,193
Pell grants: $4,530
Federal grants: $3,306
Any grant aid: $3,994
* Full-time, first-time, degree-seeking students
Percent of Student Receiving Aid by Type of Aid* (FY 2022)
Federal loans: 9%
Institutional grants: 17%
State/local grants: 24%
Pell grants: 30%
Federal grants: 100%
Any grant aid: 100%
* Full-time, first-time, degree-seeking students
Graduates
Graduates by Fiscal Year**
| Fiscal Year | Degrees | Certificates | Total |
| --- | --- | --- | --- |
| FY 2019 | 1,052 | 505 | 1,557 |
| FY 2020 | 1,341 | 743 | 2,084 |
| FY 2021 | 977 | 326 | 1,303 |
| FY 2022 | 990 | 943 | 1,933 |
| FY 2023 | 886 | 385 | 1,271 |
**For Completed Fiscal Years
Graduates by Type of Degree
| Type of Degree | FY 2021 | FY 2022 | FY 2023 |
| --- | --- | --- | --- |
| Associate in Applied Science | 25.2% | 17.3% | 23.4% |
| Associate in Arts | 30.2% | 22.8% | 31.5% |
| Associate in Engineering Science | 1.1% | 0.4% | 1.4% |
| Associate in General Education | 9.2% | 5.2% | 6.1% |
| Associate in Science | 9.3% | 5.5% | 7.2% |
| Certificate | 25.0% | 48.8% | 30.3% |
Top Five Transfer Institutions (four-year or higher)
Bradley University
Illinois State University
Southern Illinois University-Carbondale
Methodist College
University of Illinois at Springfield
Faculty & Staff
| As of Oct 1, 2022* | Full-time | Part-time | Total |
| --- | --- | --- | --- |
| Faculty | 161 | 221 | 382 |
| Administration | 34 | 0 | 34 |
| Professional/Support | 112 | 43 | 155 |
| Classified | 102 | 34 | 136 |
| Custodial/Maintenance | 53 | 24 | 77 |
| Total | 462 | 322 | 784 |
*Per ICCB C1