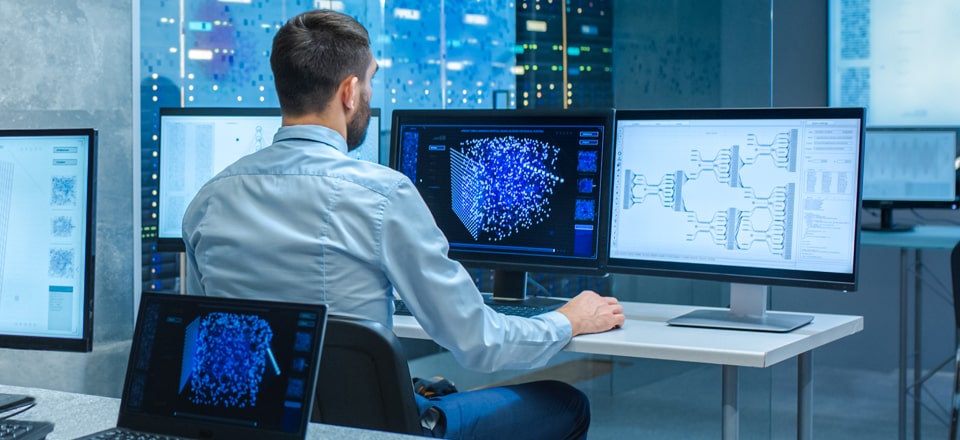 Earn a free industry recognized credential in the high-demand field of information technology (IT)!
You can earn an IT certificate at no cost to you. Most IT Workforce Accelerator programs range from two days to twelve months, with many programs offered bootcamp-style. Tuition and books are paid by a grant from the U.S. Economic Development Administration. Among the eligibility requirements, you must live in Central Illinois or work for a Central Illinois company. In addition to tuition and books, you may also qualify for additional support services.
Students
Need help exploring the information technology program that's right for you? Or do you know exactly which program you'd like to pursue? Learn more, and we will contact you to help you take the next step toward earning an IT certificate.
Employers
We provide customized solutions across the talent ecosystem, from connecting you with newly credentialed talent to upskilling your current employees. Contact us to learn how the IT Workforce Accelerator can deliver talent solutions to address your IT workforce shortages.
Programs
Cybersecurity
Google
Learn more about Google Certificates
Healthcare IT
Electronic Health Records Management
Health Informatics Certificate
Help Desk / User Support
CompTIA ITF+ (stipend eligible if you meet income guidelines)
Interpersonal Skills
Microsoft
Microsoft 365 Fundamentals
Microsoft Azure Fundamentals
Microsoft Power Platform Fundamentals
Learn more about Microsoft Certifications
Networking
Programming Apprenticeship
Programming Microcredentials
C / C++
C#
CSS / HTML

CIW Site Development Associate
CIW Advanced HTML5 & CSS3 Specialist 

Data Analytics
Database Management
Full Stack Web Development
Java 1 & 2
JavaScript: CIW JavaScript Specialist
Perl: CIW Perl Specialist
Power BI
Python 1 & 2
SQL
Web Front End 1 & 2