'Hands-on' Ag Internship Turns into Start of Maddy's Career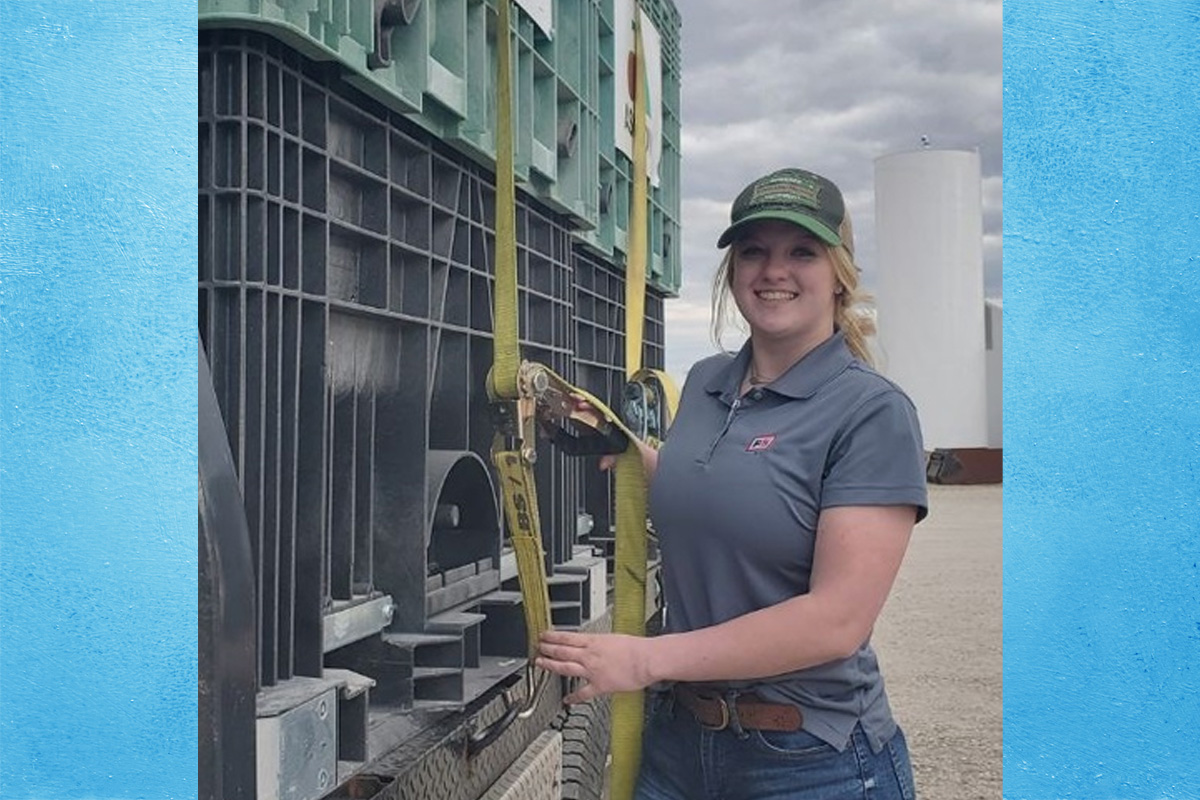 In August 2019, Maddy began her educational journey at ICC with a goal to earn a two-year degree in Agricultural Science & Technology. During her time at ICC, however, she earned much more.
Maddy graduated from ICC in May with not only her two-year degree but also certificates in Precision Agriculture and Agricultural Production. Most importantly, she graduated with a full-time employment offer from Evergreen FS, allowing her to immediately step into a role as an Agronomy Associate.
She shared, "My ICC program required me to participate in two, eight-week internships, which really gave me the opportunity to enhance my skills while being introduced to the agriculture network. I met many people within the industry and was exposed to many different experiences and resources, all for which I am grateful."
Her first internship took place during the Fall 2020 semester as she completed the Early Bird Feed & Fertilizer Internship. During the Spring 2021 semester, she completed the Growmark Exploring Agriculture Internship as a sales intern for Evergreen FS. During her time there, Evergreen FS praised her work and performance and recognized her as their "Intern of the Week." Her success lead them to extending her internship into a full-time employment offer upon graduating.
ICC Assistant Professor of Agricultural and Industrial Technologies Blake Lehman said, "Maddy was active in class and the program early on. She exhibited leadership qualities and showed she was hard-working, outgoing, skilled, and personable. She continued to build on her skills, successfully taking knowledge from her early courses and using it to enhance curriculum in her capstone courses."
"My ICC education gave me one-on-one, hands-on experience I would not have had at a larger university. Not only did I have the chance to know my peers better, but my professors were able to know each of us individually, too."

– Maddy
"I want to thank my instructor Blake Lehman. He gave me the encouragement and confidence I needed while always using real-life applications in class. Without his connection and recommendation to Evergreen FS, I wouldn't be where I am today."
Lehman said, "It makes the teaching profession worthwhile to see a student succeed in the workforce. Our local agriculture employers are in great need of motivated employees like Maddy, and the opportunities are endless for those who want to commit the time and energy into their education and internships."
Students in the ICC Agricultural Science and Technology program learn the basic knowledge of modern agricultural production and proper business practices.