Financial Aid Shopping Sheet
The Financial Aid Shopping Sheet is a tool used to notify students about their financial aid package. It is a standardized form designed by the U.S. Department of Education to help students easily compare institutions and make informed decisions about where to attend school.
Your Shopping Sheet
Students can find their shopping sheet on their MyICC E-Services Financial Aid Page.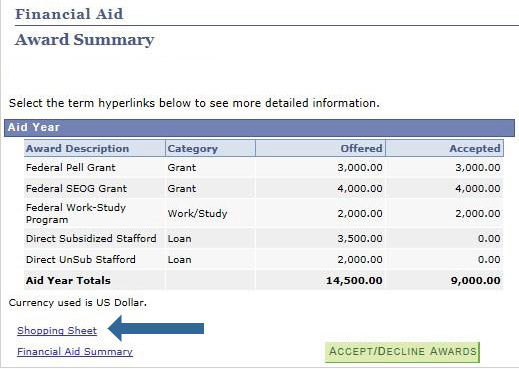 Estimates Can Change
The Shopping Sheet award numbers are based on your initial enrollment or estimated full-time enrollment if you were awarded before you were enrolled. The financial aid award may be updated after the census date of the semester, anytime a change is made to an award (ex. Scholarship added, Pell adjustment, loan adjustment, etc.) or if you add or drop classes.
Financial Assistance – Peoria
---
Office Hours
Mon-Fri 8:00 am to 4:30 pm

Virtual Hours
Mon-Tue: 8 am – 6:00 pm


Financial Assistance – East Peoria
---
Office Hours
Mon-Fri 8:00 am to 4:30 pm

Virtual Hours
Mon-Tue: 8 am – 6:00 pm